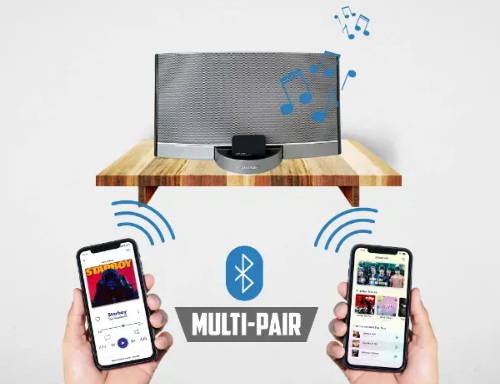 Connect the LAYEN i-DOCK to two
mobile devices at the same time!

---
Multi-Pair / Dual Pair – What is it? And how does it work?

OK – so I understand pairing, that's connecting my device (iPhone, Tablet, Laptop etc.) to my LAYEN Receiver, (which is on / plugged in my stereo). Once connected - hey presto – Bluetooth!
But...
What is Multi-Pair? And how does it work?
Multi-Pair is exactly as it sounds, pairing / connecting two transmitting devices to your LAYEN receiver on your stereo.

Please note, as of this date, from the LAYEN 30pin range only the i-DOCK 4.1 has multi-pair (but keep your eyes peeled on our range for new items or updates!). All our AUX models offer this feature.

What this means is you can pair two devices to your i-DOCK 4.1, for example your iPhone AND your iPad! Both can be paired at the same time!
Play your favourite new playlist on your iPhone, then if you want to swap to your favourite YouTube Channel on your iPad just stop play on the iPhone and press play on the iPad!
Got a BBQ or party? Pair two devices so you can change the music with ease!
It's a cool little trick that will be sure to impress your guests! (And maybe start a few arguments over who has the controllers… !)

At the time of this post, the i-DOCK 4.1 is also one of the few 30pin receivers on the market with this neat little trick ; )
For anyone who already has an i-DOCK 4.1 the instructions for doing the Multi-Pairing are below.
If you don't have an i-DOCK 4.1 yet... are you crazy? What are you waiting for? Either find it here on our website, or head over to Amazon and search for the ' LAYEN i-DOCK 4.1 '
---
Here are the instructions to Multi-Pair
How to pair to two devices simultaneously:  
(e.g. Smartphone & tablet)
Pair the i-DOCK 4.1 to your first device (Smartphone in this example)

Test the audio is playing fine (e.g. iTunes, YouTube etc.)

Now turn off or disable the Bluetooth function on the Smartphone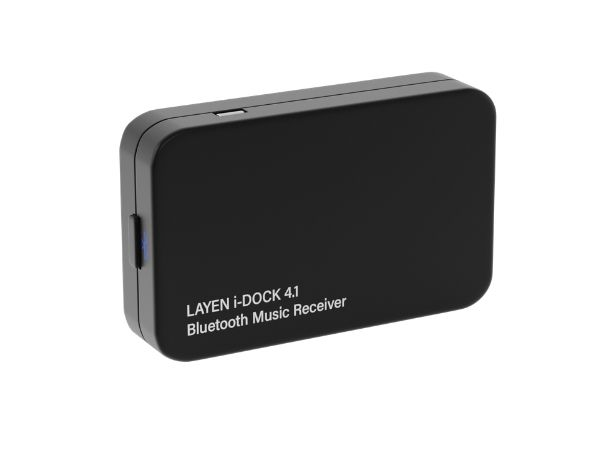 ---
4. Now Pair the i-DOCK 4.1 with the second device (Tablet in this example)
5. Now turn on the Bluetooth function on the first device - your Smartphone - and the connection will establish automatically within approx 10 seconds – if it does not – you may need to press 'connect' or 'pair'
6. When both show connected, you will now have two devices paired!
7. Just press play on the first device to play music. When you want to swap. Just stop playing on the first, and hit play on the second device (your Tablet). Bluetooth isn't instantaneous, but it only takes a moment to catch up - then it will swap to your Tablets music!
Do you own an Apple Watch? Are you wearing it and trying to Multi-Pair the devices at the same time? Beware the receiver doesn't pair to it by accident, this can cause some confusion!
No Sound From My Bose Dock - What Can I Do?

Bluetooth Receivers & Laptops / PC's Troubleshooting