Tax included. Shipping calculated at checkout.
Turn your old Hi-Fi, Docking Station or Stereo Bluetooth with the LAYEN i-SYNC and stream music wirelessly from your Smartphone, Tablet or any other Bluetooth enabled device (Smartphones, Tablets, Bluetooth ready MP3 players)
No Wires - No Cables - No separate Charger - No fuss!
Secure card payments or pay with Paypal

Free 30 Day Returns ● 12 Month Warranty ● UK Customer Support
Description
The LAYEN i-SYNC is a Bluetooth music receiver that gives Bluetooth connectivity to Docking Stations, Stereos, Hi-Fi's and Speakers with a 30pin connection. Its' simple plug-and-play feature makes it super easy to use. Simply connect, pair and play your music.
The i-SYNC will work with any Bluetooth enabled device that you want to play music from (Smartphones, Tablets, Laptops, MP3 etc). Due to technology issues, there are some compatibility issues with certain Docking Stations or Stereo's - but don't worry - we have given you all the information below with other solutions if your systems is unfortunately incompatible.

Fun Fact: The LAYEN i-SYNC was featured in the Financial Times Gadget supplement who were blown away with the quality and at the time of writing, the 1500 reviews on Amazon... this is now well over 3000+ !

Specification
Bluetooth 3.0+ EDR, Class 2 - A2DP & AVRCP - Audio/Video Remote Control Profile

30pin connection, powered directly from Dock, no battery, no charging.

Auto-repair, remembers up to 8 devices at once

Compatible with a large number of docks and speakers. We offer a no quibble full refund in the rare instance it is not compatible with your dock

Crystal clear sound, transmission distance up to 10m & through walls
Compatibility
The LAYEN i-SYNC is compatible with a large number of docks and speakers. We offer a no quibble full refund in the rare instance it is not compatible with your dock.
Before purchase please read the below information and compatibility lists.
If your dock IS COMPATIBLE - great! Go ahead and purchase the i-SYNC.
If your dock is NOT COMPATIBLE no problem. Just look at our AUX receivers above in the comparison chart. These are universal - so long as your dock had an AUX input (headphone jack) it WILL work.
If your dock ISN'T LISTED - no problem. This just means that we do not have any feedback on it yet (we usually only hear from customers when it doesn't work!) Please feel free to buy it and test it out. Don't forget to let us know how you get on. And rest assured - that if you do have any issues with compatibility you can simply return and purchase one of our AUX receivers instead.
* Please note - we do not recommend for use in cars - in the majority of cases it will not work. Please see our AUX Bluetooth receivers which will work with ANY car stereo with an AUX connection (and any stereo that is incompatible with the LAYEN i-SYNC - so long as it has an AUX connection.
Compatible Docks - These Docks are ALL COMPATIBLE with the LAYEN i-SYNC
All Analogue Stereos & Docks. Altec Lansing iMT810 Boombox, Apple A1121 Dock, Bose Sound Dock 2, Bose Soundock 10, Bose Lifestyle, Bose Soundock Portable, Bose wave System III, Bose V35 systems iPhone 4 Dock, Gear4 Explorer, Gear 4, Gear4 "HouseParty" Boom Box With iPod Connector, Harman Kardon Go Play v1, Harman Kardon Go Play + II, Harman Kardon BDS800 Surround Sound System, iLuv iMM747, iLuv i9200 JWIN, iPort IW Wall Mounted System, InTempo IDS05W, inTempo DAB Speaker Dock, Jami i300, John Lewis DAB Radio With 30 Pin iPod Dock, JBL Radial Dock, JBL On Time (2006) Radial, JBL Onstage 2, 3 & 4, JBL On Beat, JBL On time micro, JBL Travel Speaker Dock, Kitsound Boom Dock, Klipsch iGroove 2, Logic 3 WIP040 Pro Dock, Logic3 i-station TTV, Logitech S715i, S135i, S315i, Onkyo UP-A1 Dock, Onkyo DS A2, Onkyo DS A4, Orbitsound Soundbar, Orbit sound t12, Orbit Sound t12 V3, Pure i10 Dock, Roberts Sound 53, Roberts Sound 200, Roberts MP43, Roberts Stream 63i, Ruark R2i, Ruarkaudio R4i, R2 Vita Audio System, Sonance iport Dock, Soundbar Version T12, Sony Stream63i, Sony AIR - SW10Ti, Sony ICF-7iP, Sony ICF - C05iP, Sony ICF -C1iPMK2, Sony RDP- M15iP, Sony RDP -M5iP, Sony RDP-X80iP, Sony RDP V20iP, Sony RDP - X30iP, Sony RDP - XF100iP, Sony TMD - iP1, Sony SRS-GU10iP, Skull Candy Pipe, TEAC TD X250i, Technika Clock Radio, Vita R4i, Vita R2i, Vita Audio R2, Yamaha YSP 2200
Non Compatible Docks - These Docks are NOT COMPATIBLE with the LAYEN i-SYNC
Any Digital Stereo or Digital DOCK, including Car Stereos. Altec Lansing iPod player, Altec Lansing 'Octive 202' iPod/iPhone Dual Dock, Arcam Cube, Acram R-dock, Audi 30-pin iPod Dock For Bose Symphony Systems, Bang & Olufsen - all models, Bose III, Bose Connect Kit, Bowers & Wilkins - all models, Denon M39 DAB, Denon RCD N7, Fatman itube, Gear4 House Party DAB, House Of Marley Get Up Stand Up, iHome IP-90, Intempo IDS05W, JVC On Stage, Klipsch iGroove HG, Klipsch iGroove SXT, Logitech S715I, Logitech Pure-fi Anywhere 2, Logitech UE Air, Loewe Docks, Monitor i-deck 200, Orbitsound T9 Soundbar, Orbitsound T12 v3, OnkyoND-S1, Onkyo CBX-600UKD, Panasonic Cinema System SA-PM500DB, Panasonic SA-PMX5DB, Phillips DCM3260, Philips DC315 Bedside Radio, Philips Ds9/10 Sound Dock, Pioneer Cm31-DAB Micro System, Pioneer XW-NAW1-K, Pure Siesta DAB Clock Radio, Pure I-20 Dock, Roberts MP43 CD/DAB Radio, Roberts Sound100, 200, Sharp GX-M10, Sony CMTBX77-DBi, Sony CMT-MX550i Micro Hi-Fi With iPod Dock, Sony CMT - BX77DBi Micro System, Sony CMI-BX77DBMI, Sony HCD BX70DBi, Sony ICFDS15IPB D/Station, Sony MHC-EC609iP, Sony RDP XA700iP, Sony TDM-iP50, Sony XDR-DS16iP, Sony NAS Z200IR, Sony ICFDS15IPB D/Station, Sony BDV E490 Home Cinema System, Technika Clock Radio, Tivoli Audio iYiYi, Teac sr80i DAB, Yamaha CRX550 Micro Hi-Fi, Zeppelin (post 2007/2008)
Delivery & Returns
Please allow up to 5-7 days for UK delivery and 7-10 days for International delivery. For more information please see our Shipping Policy.
It is important to us that you are happy with your order which is why we offer a 30 Day Money Back Guarantee. This gives you 30 days, from date of delivery, in which to return your order for a refund. For more information please see our Returns Policy.
We have a list of FAQ's at the bottom of this product page. Simply scroll down to find the answer to your question. If it's regarding compatibility please just click the compatibility tab in this section. We have lots of helpful information in this product listing and on our blog - and of course, you can always get in touch with us via email if you need any help!
Go Bluetooth in 60 Seconds. With simple and fast pairing you can be set up in under 90 seconds. No technical expertise required!
Sleek Design. The i-SYNC is slim, sleek, portable and looks fantastic in any docking station. Its' premium scratch proof casing will keep it looking sharp!
Transmission Distance of 10m+. Although direct line of sight will work best, this transmission distance means that you can play music and change tracks across the room and even in other rooms.
Works with Any Music App. You can stream audio through any of your favourite Apps - Spotify, YouTube, Deezer, Amazon Music, Apple Music or through your own music library.
Works with Alexa! Using the i-SYNC connect your Amazon Echo Dot, Echo or Echo Plus to your existing Stereo/Docking station, for a voice activated audio system that truly brings your old Stereo back to life and into today's wireless world!
Auto-Repair Function. The i-SYNC can remember up to 8 devices once paired, so there is no need to re-pair each time you want to change devices and music.
Superior Sound. Be reunited with the amazing sound that your faithful Dock always delivered.
---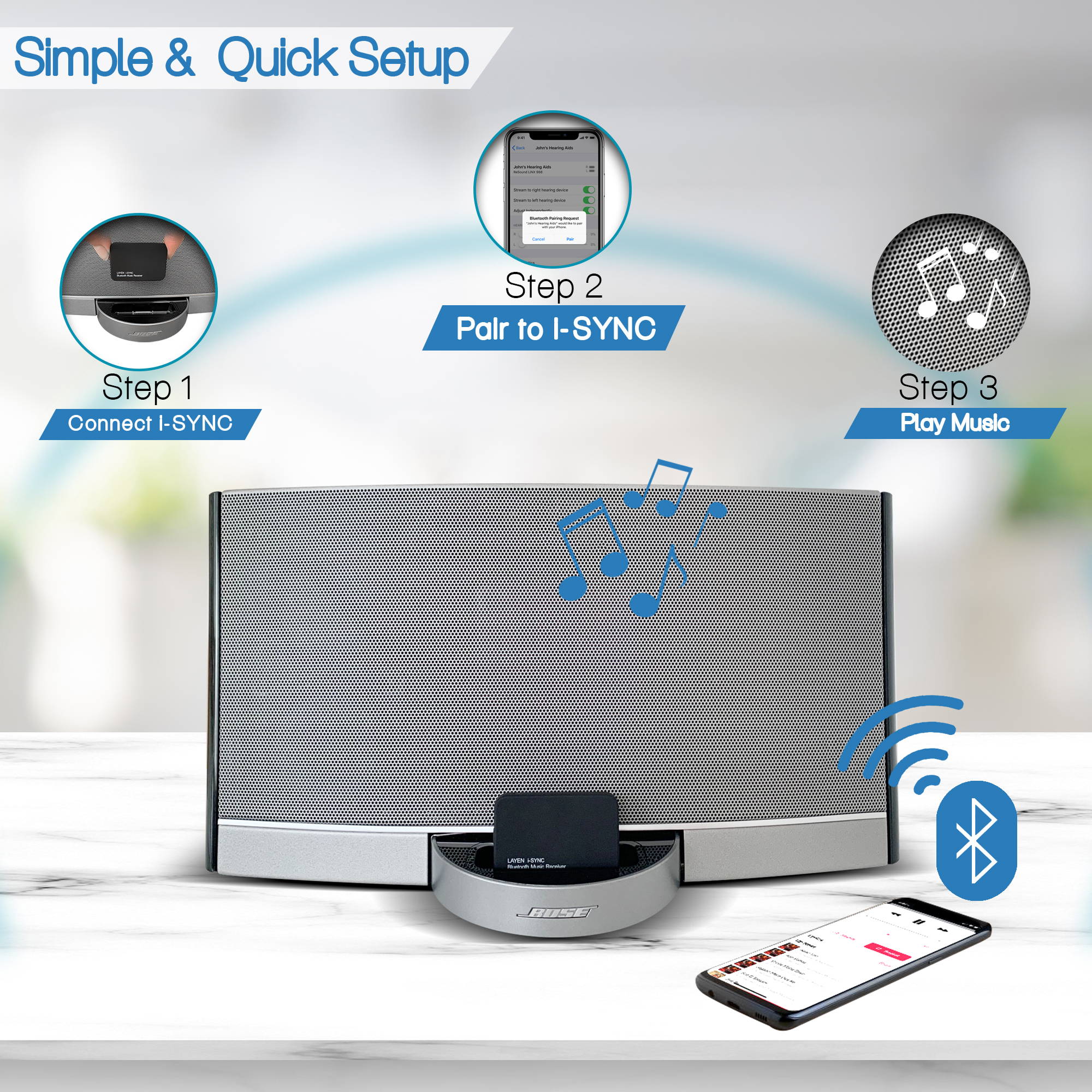 Quick 3 Step Set-up Process

There are just 3 simple steps to turning your old docking station or stereo Bluetooth.
Step 1: Place the LAYEN i-SYNC securely in the 30 Pin Connection in your Dock or Stereo.
Step 2: Pair the LAYEN i-SYNC with your device; Smartphone, Tablet, MP3 etc
Step 3: Once connected, open up your favourite music app, press play and get your groove on!
Yes - it really is that simple!
---
---
If you have an Echo....you can take your set up one step further! Connect the LAYEN i-SYNC to your old dock and pair with Alexa to really bring it back to life and into the wireless voice-assisted world!
If you don't have an Echo... you can purchase the Echo Dot for a small amount these days and add it to your Stereo and i-SYNC for the ultimate Audio Hack!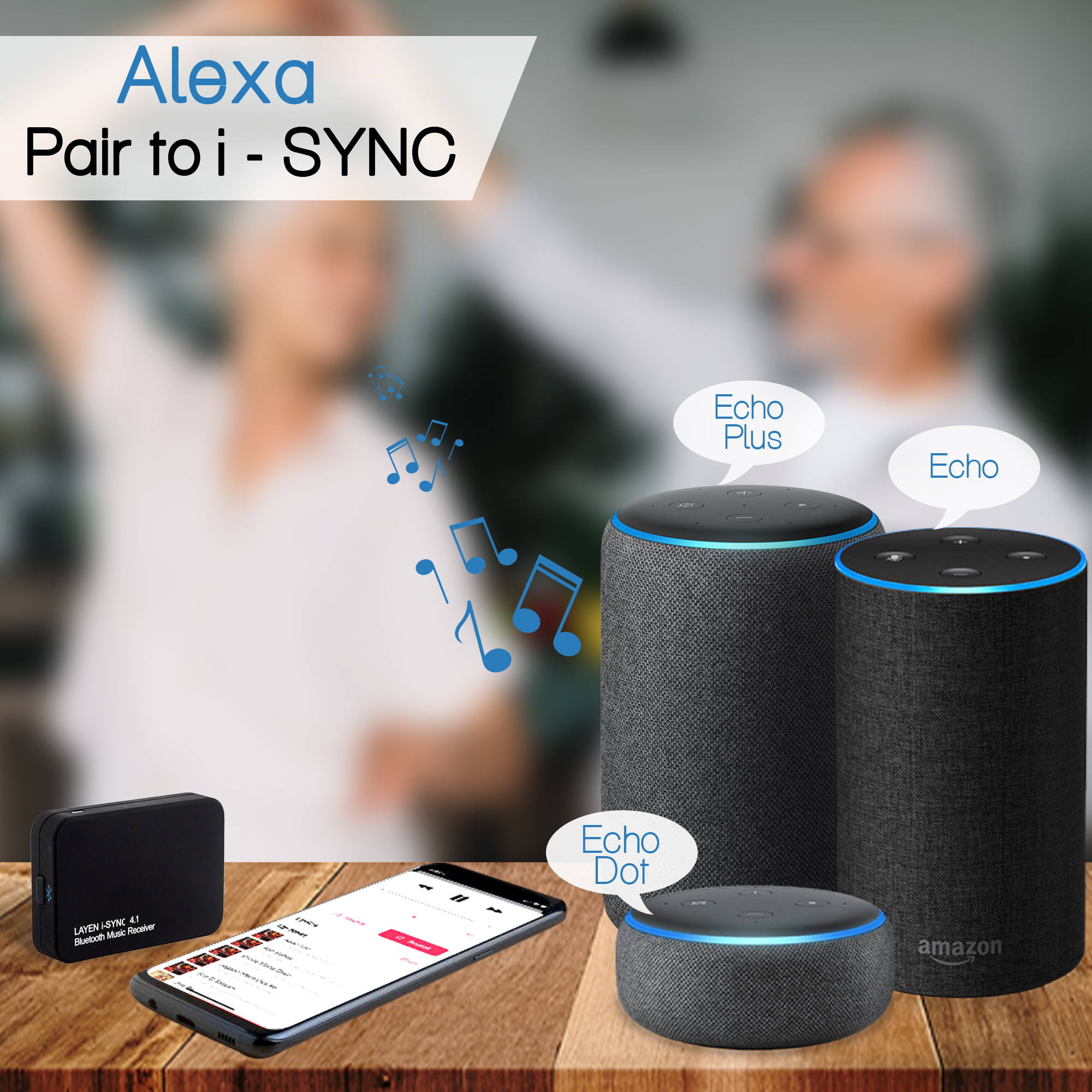 ---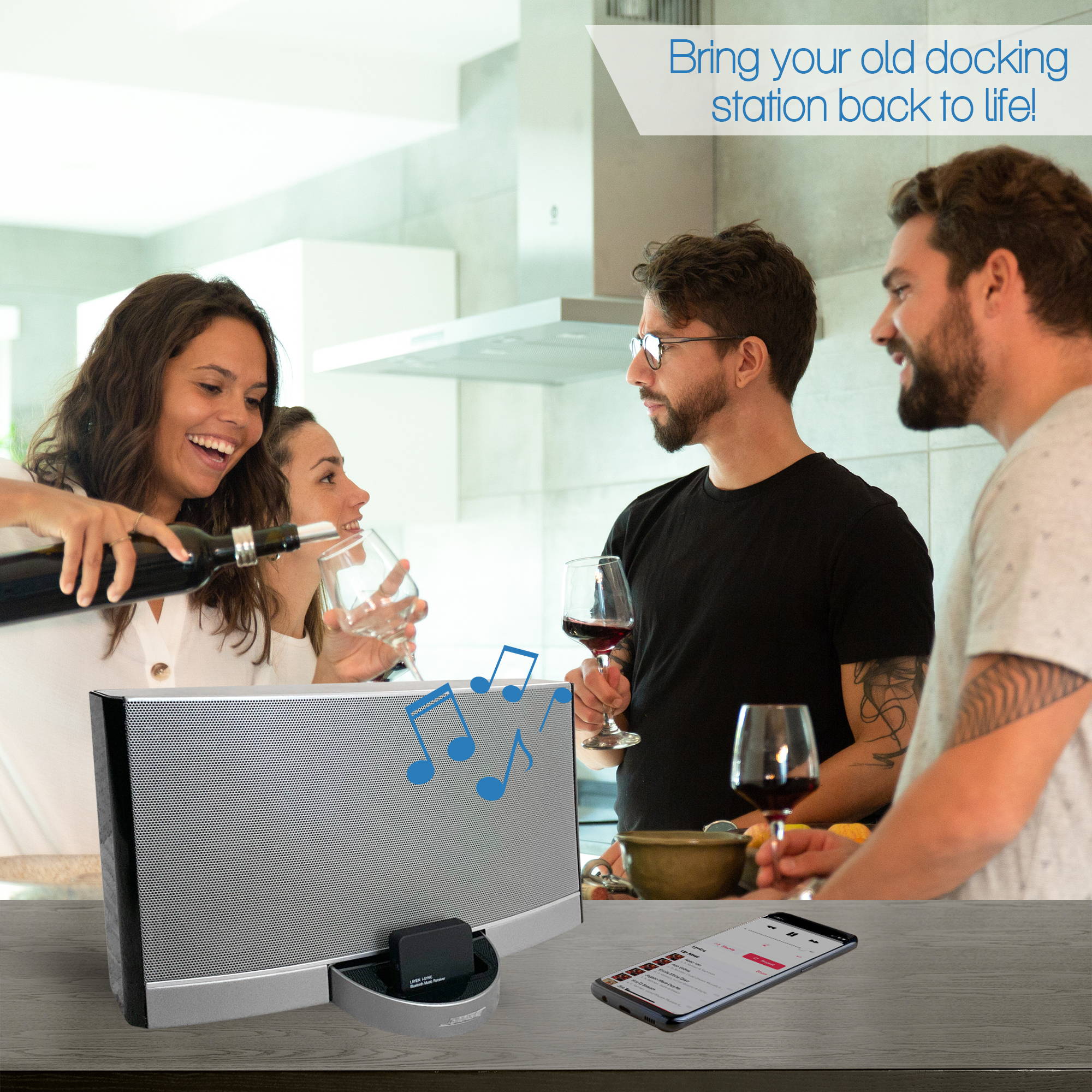 ---
Switch Music Between Friends

The Auto-repair feature allows you to connect up to 8 devices that will be remembered. So it's easy to switch between yours, your friends and your family's music.
We can't promise there won't be any music wars, but it will make for a great Track-off!
---
---
Say Goodbye to Messy Wires!

Finally, you can use your old dock without faffing around with cables or wires and better still, you no longer have to put up with the eyesore! Now, you can enjoy your music wire-free - just the way it should be!
Time for you and your speaker to enjoy the wireless freedom your both deserve.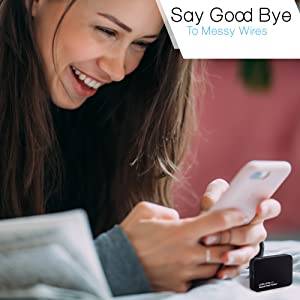 ---
I am absolutely thrilled with this gadget. I can now listen to my iTunes collection on my old HiFi, in the lounge. Thank you for the speedy delivery too!
Unbelievable bit of kit, the range is massive it works from 70 metres away. Connects instantly and turns a old Bose sounddock into a wireless speaker. Great quality sound and very reliable.
Bring olds tech back to life! Plug in. Press the Bluetooth button. Connect your device. Enjoy! Exactly what I needed to make use of an old Philips speaker for the office.
---
Is the LAYEN i-SYNC right for me?
The LAYEN i-SYNC will only work with docking stations that have a 30 pin connection. If yours does, please scroll up and check the compatibility tab for information on your dock. All the information is in there
What is the difference between the i-SYNC, i-DOCK and BS-1?
The i-SYNC and the i-DOCK are similar receivers, the i-DOCK is the more premium version with a more premium Bluetooth chipset, the inclusion of aptX technology (for enhanced audio experience) and a Multi-Pair function - allowing two devices to pair at the same time. However - they both product excellent sound. The BS-1 was designed purely for the original Bose Sounddock (Series 1 model) which does not have the charging function and so is unable to give power to 30pin receivers. If your Bose is an original Bose 1 you need the BS-1, for all later models, the i-SYNC or i-DOCK will work. Please check the compatibility tab at the top of the page for a list of compatible docks and stereos.
What if the i-SYNC doesn't work with my dock?
First of all don't panic : ) - Email us and let us know. We'll walk you through some troubleshooting to make sure there is not another issue. We often find that dust in the 30 pin connection can cause some interference and sound issues, which is easily fixed. There are other things we will check with you to determine if it's an incompatibly issue. If it is, you will be able to return the i-SYNC for a refund. We have a 30 day returns window, to give you plenty of time to test it. We will also be able to recommend one of our AUX receivers for you to try instead. These are universal and don't suffer the same compatibility issues that 30 in receivers do so you will be fine.
Will the i-SYNC work with my car stereo ?
No the i-SYNC is not compatible with Car Stereos, or any Digital Docks or Stereo's. You can use any of our 3 AUX Bluetooth receivers for your car.
I don't know if my Bose is a Bose Series 1
If you have the Bose Series 1 you will need the LAYEN BS-1 and not the i-SYNC. The easiest way to tell if you have a Bose series 1 dock is if it has an AUX/AUDIO IN connection in the back of the dock. If it doesn't - you have the Bose 1 and need the BS-1. If it does have an AUX connection, it is a later model and it will work with the i-SYNC
Does the LAYEN i-SYNC need charging?
No it doesn't. The i-SYNC draws power from the dock itself, through the 30 pin connection. You therefore never need to remember to recharge it!
---